BWV 126/1
Concerto super Erhalt uns, Herr, bei deinem Wort - 1725 - Sexagesimae
canto fermo in soprano
The composition starts off with a fanfare motif that is derived from the first four notes of the cantus firmus. The cantus firmus lines are in soprano and are both connected and supported by a polyphonic web of voices in Italian style. The almost warlike atmosphere of the piece can no doubt be traced back to the text:

Erhalt uns, Herr, bei deinem Wort
Und steur des Papsts und Türken Mord
Die Jesum Christum, deinen Sohn,
Stürzen wollen von seinem Thron.
Euwe & Sybolt de Jong
Hinsz-organ - Martinikerk
Bolsward, The Netherlands
photo: Dick Sanderman
recorded June 2006 - WestraMedia
| | |
| --- | --- |
| player 1: medium - hard | player 2: medium - hard |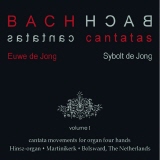 Bach Cantatas volume I > order cd
Euwe & Sybolt de Jong
Hinsz-organ - Martinikerk
Bolsward, The Netherlands
| | |
| --- | --- |
| € 10,= | The arrangement (PDF) and invoice will be sent by mail. |